On 8 January 2021 Donald Trump, one of the most widely known Twitter users, lost his voice in the social network. Twitter permanently suspended the account due to "the risk of further incitement of violence". Trump's chapter on Twitter which started in May 2009 came to an end, having published over 50,000 own tweets and countless retweets. During his political career Trump used Twitter to rally, to announce and promote his policies, to hire and fire the people around him. His inability to concede his election defeat to Joe Biden and ongoing claims about a 'rigged election' resulted in a mob of armed supporter violently entering the Capitol in Washington D.C. on 6 January 2021.
Following up on an earlier map that we produced for the Talking Maps exhibition at the University of Oxford's Bodleian Library in 2019, we have now analysed all tweets that Trump sent since he took office and created a series of cartograms that depict which countries he has mentioned the most on his Twitter activity. The maps below scale the area of a country to reflect the proportion of mentions that this country received in the tweets of the user @realdonaldtrump between his election on November 2016 and November 2020 when he got voted out of office. The larger a country, the more tweets it is featured in. In the weeks after the 2020 election until his account got suspended there were no further significant mentions of foreign countries but almost exclusively communication about domestic matters (namely the election) which are not shown in these maps.
The first map below shows a summary of all Twitter activity during his presidency from November 2016 to November 2020, followed by a series of maps showing each individual year in office.
Twitter was one of the main means of communication during his presidency and was often and widely used and cited in the international media. Since his election, Trump tweeted almost 23,000 messages (retweets excluded) with 2,252 individual references to other countries. A total of 92 countries have been mentioned at least once. The most mentioned countries in his tweets were China, 19 per cent (436 tweets) followed by Russia, 16 per cent (367 tweets), North Korea, 8 per cent (182 tweets), Mexico, 7 per cent (156 tweets) and Ukraine 4 per cent (94 tweets).
As Trump was known to heavily rely on Twitter for announcing his views and his major 'policies', these maps are a reflection of the changing priorities of his international outlook and reflect on some of the major global events that defined his period in office.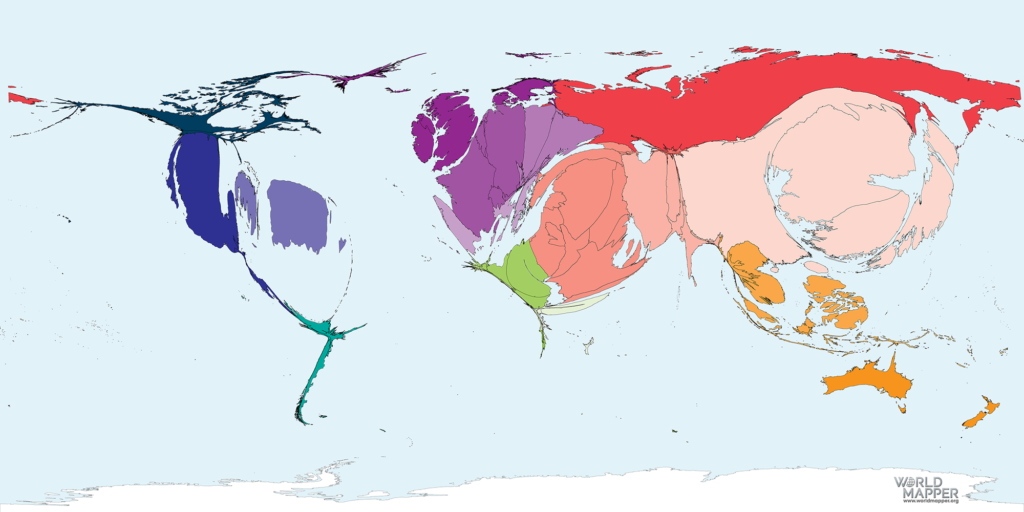 Trump's Tweets mentioning foreign countries in 2016/2017 (above)
Between winning the election on 8 November 2016 until the end of 2017, Trump mentioned Russia the most (89 tweets), followed by North Korea (57 tweets) and China (47 tweets), Puerto Rico (33 tweets) and China (21 tweets). In 2017 there was a special counsel investigation into an alleged collusion between Trump and the Russian government, so that many of his tweets focused are around that topic. In September 2017 category 5 hurricane Maria hit the Caribbean and – among other islands – caused Puerto Rico the worst natural disaster in recorded history. Puerto Rico is an unincorporated territory of the United States and as such, the island of Puerto Rico is neither a sovereign nation nor a US state, so that we decided to include it as a foreign territory in our analysis. As a result of the hurricane in the autumn that year, Puerto Rico did not only receive financial aid from the US government, but also a visit of President Trump, accompanied by a considerable number of his tweets.
A total of 55 countries were mentioned in that period.
The investigations against the Russia-Trump connection keep Russia at the top of Trump's tweets in 2018 (155 tweets), followed by China (82 tweets), North Korea (80 tweets), Mexico (48 tweets) and Canada (31 tweets). While tweets about China, Mexico and Canada deal mainly with tariffs and a looming trade war, North Korea made the list due to the surprise summit of its leader Kim Jong-Un with president Trump taking place in Singapore in 2018.
A total of 56 countries were mentioned by him in that period.
The escalating trade war with China is catapulting China to the top of Trump's tweets in 2019. The country is mentioned in 168 tweets, about double the number of the runners-up Russia (85 tweets) and Mexico (77 tweets). In March 2019 the investigation into a Trump-Russia-Conspiracy came to an end, which accounts for most of his Russia-related tweets. In the autumn the Trump-Ukraine scandal came to light: the US president requested the Ukrainian President Volodymyr Zelensky to investigate Joe Biden and his son. This sparked the scandal and put Ukraine in Trump's tweets (71 tweets). 2019 was his most active year on Twitter.
In total 54 countries were mentioned in his tweets in that period.
2020 was dominated by the US election campaign, so that most of Trump's tweets dealt with domestic issues which are not displayed in our maps. China still leads the board globally (139 tweets), followed by Russia (38 tweets), Iran (18 tweets), Ukraine (12 tweets) and Mexico (10 tweets). Our analysis concludes with the election on 3 November 2020.
The map of all Trump tweets between 2016 and 2020 can also be viewed in the maps section where you find further details about the cartogram, the data and their sources, and also the possibility to obtain map use licenses for commercial use:
Note: All work on Worldmapper.org is licensed under a Creative Commons Attribution – Non Commercial – ShareAlike 4.0 International License. For any commercial use (including in publishing) a map use license needs to be obtained. Contact us for further details.